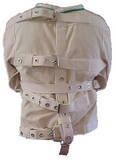 Could be the weather, could be a hangover from November, but I've been feeling ... dark.
Anna Lycis

Anna Theema drank coffee in bed,
She stayed awake 'til dawn and read.

Anna Bolique grew and grew,
The poor girl was forever buying shoes.

Anna Stettik was a sleepy one,
She drowsed right off and missed the fun.

Anna Tommi's body was fair,
They found bits and pieces, here and there.

Oh.
Oh.
Oh.

Annas sweet, and Annas fair
Auburn skin and creamy hair

Anna's name that burns so bright
Gives purpose to our endless night.

Oh.
Oh.
Oh.

Anna Nonim was the last this year,
She met with Us

and disappeared.